Laramie Crocker's musical fantasy performed in 2004, about a country in the very near future. CD / Listen (MP3s) 2003-2005 Shows
Laramie's Homepage
Laramie's Gigs
Performances of USPA
CDs / MP3s
listen to the songs
get the CD
Liner Notes
lyrics and liner notes
from the album
Libretto
lyrics, spoken word
and images from the show
Chord Charts

Gallery
images from the show
Outline
all the lyrics and MP3s
Current Fliers

Laramie's songs
all my other songs
Political Links

Laramie's website
politics, music, humor
Laramie's stories
original fiction and poems


The country is under the influence of Realitrol, a new disbelief drug spirited into the nation's junk food supply. Pat Buchanan doesn't believe the election results, Donald Trump starts a back-to-the-land movement, Jerry Falwell publicly declares there is no god, and Rush Limbaugh doesn't believe his own radio show. In the ensuing chaos, the Bushies stage a Code Red Coup.

The U.S. Provisional Authority still rules, run by Commander-in-Chief Dubya, Commander Cheney, Minister-of-Freedom Ashcroft, General Rumsfeld, and Minister-of-Information Rove. A lone Patriot struggles with his memory of events, attempting to match reality to experience.

Laramie as
Commander-in-Chief Dubya:
"America is safer now"





"Laramie is the Tom Lehrer of our times, the Musical Michael Moore"
-- Patricia and Daniel Elsberg (author, the Pentagon Papers)

---

See Laramie's new Flash Movie and song about bringing our soldiers home: "Cargo"


See Laramie"s new Flash Movie about the struggle for voting rights, from suffrage to Diebold.
"The Chessmaster Plays Ohio"




Buy the CD Here


CD, booklet, shipping: $5


Listen Here

See the libretto, which has all the spoken word, the lyrics, charts, images from the show, and stage directions. You can also see the gallery.


---
Contact Information
eMail Laramie for information about shows, booking, CDs, ideas, what you think of the songs, etc.

Laramie as
General Donnie Rumsfeld:
"There are unknown KNOWNS!"

A review from the 10/22/04 show in Berkeley:

"Last night I finally went to see Laramie and his band perform his "U.S. Provisional Authority" show, and it's GREAT! Many of you have, I hope, already listened to the soundtrack mpegs on his website, but they're much better live - real toe-tapping, foot-stomping, hand-clapping stuff. And it's amazing watching Laramie perform a totally rockin' tune, playing guitar and singing and gettin' down, while still managing to perfectly imitate Donald Rumsfeld's facial expressions.

And his mom plays the piano like Chico Marx.

It's a good thing I already sent in my absentee ballot, because otherwise I'd be tempted to vote for Bush on the grounds that if he's elected, Laramie will keep performing this stuff. "

---

See my Flash movie Cargo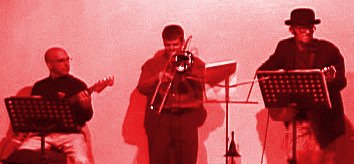 ---
Links
Link to us here.

David Donlon helped me with the first version of "I Want My Country Back", and you can find his latest project here: DemocraticMusiciansOfAmerica.com

Visit The Orb Standard World News -- of, by, and for the World.

Visit Wonderella.org - Wonderella Printed Home of fantastic literary booklets, such as "On Gnoming" which will tell you the best way to hunt, kill, and prepare Gnomes.

Visit www.OpenVoting.org The Open Voting Consortium, who are dedicated to the development, maintenance, and delivery of open voting systems for use in public elections.
---
The material about the U.S. Provisional Authority is, like DUH, a PARODY.
The music, and shows, are real.
Copyright 2004 Laramie Crocker / U.S. Provisional Authority